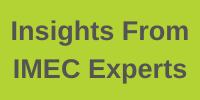 The New Supply Chain: Make a Difference
Part 4 of the The Supply Chain Blog Series.We have learned that manufacturing and the supply chain will rise to the call and that we are far more innovative and flexible than we believe.
---
The New Supply Chain: Re-Invent
Part 3 of the The Supply Chain Blog Series. We will "reinvent" the supply chain during this crisis and for the future, pandemic will be a section within every business continuity plan.
---
How to Structure your Large Data Sets
During these troubling times, big data analytics is proving to be an ally for first responders and other front line workers.

---
Four Strategies to Use Now to Adjust and Improve Cash Flow During a Crisis
Maintaining adequate cash flow is a major factor when operating a healthy business in times of growth and prosperity. During tough times it takes on an amplified role.
---
Using 80/20 in your Crisis Rebound Strategy
80/20 can help narrow the focus to what is most important during this challenging time and ensure a successful emergence from crisis.
---
7 Ways Companies can Differentiate and Stand out from the Competition
Pull your team together and start outlining areas where you can differentiate your company from your competition. You hired them for a reason, let them be part of the journey
---
Pivoting & Managing a Crisis: Effective Business Continuity Plans
For companies in the manufacturing sector however, there are certain key elements which should be considered the "minimum" items to address.
---
Strategy in a Time of Uncertainty

Albert Einstein is quoted as saying "In the midst of every crisis, lies great opportunity." If this is true, what is the opportunity for your organization? Where is the guidebook? How can we lead the organization to not only survive but thrive in the future?
---
Lessons for Our Times from Two Iconic Leaders
How are you giving employees a sense of purpose at this time? Are you visible to employees, even if they are working remotely? Leadership lessons from two iconic leaders for all times and some specific pointers for surviving times of crisis
---
Success Leaves Clues
What will your business look like in 3 or 6 months? How about in 2021? How will we prepare our teams and leaders appropriately?
---
How are you Getting Better at Getting Better?
There is an enduring approach to organizational performance that has been around since the 1980s. It has proven its value and can be applied today to create and sustain that same value.
---
Gaining Trust in a Crisis
Now is the time to exhibit some of your humanity along with your leadership in order to build trust between you and the people that work for you.
---
Developing Leaders During a Crisis
We may not have a clear vision of what the future holds; however, we still need to be proactive in shaping our destiny. Begin developing your leaders now so they will be prepared as we emerge on the other side in the coming months.
---
Balancing Home and Work Life While Working From Home
Working from home has its benefits and challenges. Here are some tips to help you enjoy your new office as well as live peacefully with people at home.
---
Listening to Your Employees: Employee Engagement Survey During a Crisis
Within an organization, maintaining strong cohesiveness as a team is what will keep us thriving through obstacles.
---
Four Key Elements of an Effective Risk Management Program
An effective Risk Management Program combines the evaluation of risk with the deployment of resiliency.
---
COVID-19 Risk Mitigation Checklist
You should create a facilities plan that will help keep your employees as safe as possible - don't wait for one to test positive for Coronavirus.
---
Preventative Maintenance Now for Success Later

As organizations face a slowdown in incoming orders or employee absenteeism, now is the time to address those nagging equipment issues.
---
Facility Startup Checklist
Here are some guidelines that can help you ensure employee safety and proper machine and process startup as you resume operations
---
Lean Through COVID-19: Adapting Lean Tools To Changing Times
The need for continuous improvement persists, and one may argue, is even more important during challenging times.
---
COVID-19 and Problem-Solving Skills
The COVID-19 crisis should be treated as a wake-up call for us! How well does your team solve problems at the root cause level?
---
Do More with Less – The march of Productivity
The role of automation and mechanization in driving productivity has been widely headlined. Yet, eliminating unnecessary work takes as much innovation.
---
Training Within Industry: Job Instruction - Why Now?
Job instruction method allows you to get a person to quickly remember to do a job, correctly, safely, and conscientiously.
---
Gain Client Commitments to Move Opportunities Forward
Being the resident expert who is able to guide them through this tough time might be just what is needed to get to "yes" a little quicker and more often.
---
Connect with Clients Quickly by Building Rapport in the Conversation
When it comes to building rapport in conversations, the key is to keep it simple and listen, listen, listen!
---
Decisions about Face Covering in Manufacturing
Some governing bodies are requiring face coverings and not providing clear definitions or specifications on what is considered a "face covering."
---
How is Your Respiratory Protection Program?
Respiratory Protection Programs are a little more complicated than other aspects of Personal Protective Equipment (PPE) for many employers.